Former two time Chelsea handler, Jose Mourinho insists that there is plenty of time as reporters kept on insisting he made a statement about the purported Manchester United coaching job.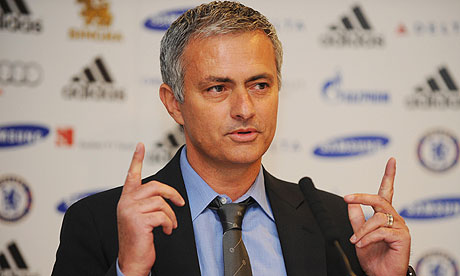 Since being sacked at Stamford Bridge, the UEFA Champions League winning coach has been jobless but has been heavily linked with the move to Old Trafford. As Manchester United kept on losing chances in various competitions they were involved it, the speculation grew but the Portuguese coach remained coy.
Mourinho gave the studied impression of being unperturbed by Manchester United's defeat at West Ham, a result which could herald his appointment as manager at Old Trafford now that Louis Van Gaal is unlikely to deliver Champions League football next season. The experienced coach, who arrived in Mexico City on Tuesday night to manage a FIFA legends team and the 66th FIFA Congress, said he was flying during the match and only found out the result when he had checked into his hotel.
He smiled enigmatically when asked if it would affect his future. He said:
"There is plenty of time."
Mourinho was at the 66th FIFA Congress in Mexico City, has said "there is plenty of time" for his future to be sorted as speculation continues to link him with a move to Manchester United
The 53-year-old tactician is hoping to return to football following his dismissal from Chelsea in December. When asked about his legends team, he said:
"I didn't pick them, I'm here on my holidays."
Mourinho's vacation has now stretched to five months. Manchester United go into their final game of the season against Bournemouth two points behind neighbours Manchester City. They would have to beat the Cherries and hope City lose at Swansea on Sunday to qualify for UCL even though a FA Cup final win over Crystal Palace may not be enough to save the Dutchman from losing his job.